Global knowledge sharing is an important aspect of effective election administration and management. Apart from providing the opportunity to understand and adopt good practices, it allows Election Management Bodies (EMBs) across the world to learn the nuances of cross-cultural challenges and devise efficient solutions for the same. As the EMB that conducts the world's largest democratic election in terms of scale and magnitude, the Election Commission of India has always sought to expand the scope of knowledge sharing through initiatives such as the International Election Visitors Programme.
In the past, ECI has organized International Election Visitor Programmes (IEVP) for EMBs / Organizations in 2014 Lok Sabha elections; elections for a few State Assemblies in Feb / March 2017; Lok Sabha Elections in May 2019 and International Virtual Election Visitors Programme 2020 during Bihar Assembly elections. The purpose of IEVP is to familiarize fellow EMBs / Organisations across the world with the Indian electoral system and good practices adopted in the world's largest democracy. On April 05 and 06, 2021, the International Election Visitors Programme (IEVP) 2021 was hosted by the Election Commission of India for Election Management Bodies from 26 countries and three International Organisations during the elections to Legislative Assemblies of Assam, Kerala, Puducherry, Tamil Nadu and West Bengal. These elections, conducted in the months of April and May 2021 collectively had an electorate of over 87.2 million spread over 824 Assembly constituencies - one of the largest in the world to vote amid the pandemic which poses formidable challenges and necessitates intensive preparations in addition to unique initiatives taken to conduct a COVID safe election. With more than 100 delegates from 26 countries in attendance, the two day event, hosted virtually, presented a good opportunity to share Indian practices and experience of conducting a good poll process as well as steps taken to mitigate the effect of pandemic.
The delegates included members from 3 international organizations namely International IDEA, International Foundation of Electoral Systems (IFES) and Association of World Election Bodies (A-WEB) along with representatives from EMBs of Afghanistan, Australia, Bangladesh, Bhutan, Bosnia & Herzegovina, Cambodia, Georgia, Kazakhstan, Kenya, Republic of Korea, Madagascar, Malawi, Malaysia, Maldives, Mauritius, Mongolia, Nepal, Panama, Philippines, Romania,Russia, South Africa, Suriname, Ukraine, Uzbekistan and Zambia. Besides these, the Ambassadors of Georgia and Uzbekistan, Acting High Commissioner of Sri Lanka and other members of Diplomatic Corps were also in attendance to witness the poll preparedness and conduct of elections to the Legislative Assemblies in these states.
The Programme for IEVP 2021 consisted of a comprehensive set of sessions online that provided the participants an overview of the large canvas of Indian electoral process. Umesh Sinha, Secretary General, ECI headed the session with an outline of the most important aspect of conducting elections in current times – preparations and protocols for COVID-19 safety and large scale voter awareness and education taken up amid COVID-19 under SVEEP.
The programme also included a session by CEO Bihar, H.R. Srinivas who provided his insights on recently conducted the Bihar Legislative Assembly Election in 2020. This election served as a pioneer in conducting elections amid COVID-19 as it was the first major election held amid a pandemic. This, coupled with the situation of aftermath of floods and extremist groups had made the election an extremely challenging one. The numerous challenges were effectively mitigated with stringent COVID-19 guidelines for political parties and candidates, polling stations, and election related activities. Furthermore, strengthening of infrastructure and manpower, intensive capacity building measures, postal ballot facility for absentee voters, purification of electoral roll, ICT interventions and inclusion of migrant labourers led to encouraging outcomes such as increase in polling percentage in 10 out of 14 flood hit districts despite all odds and a higher voter turnout of 57.34% as compared to 56.88% in Bihar Legislative Assembly of 2015.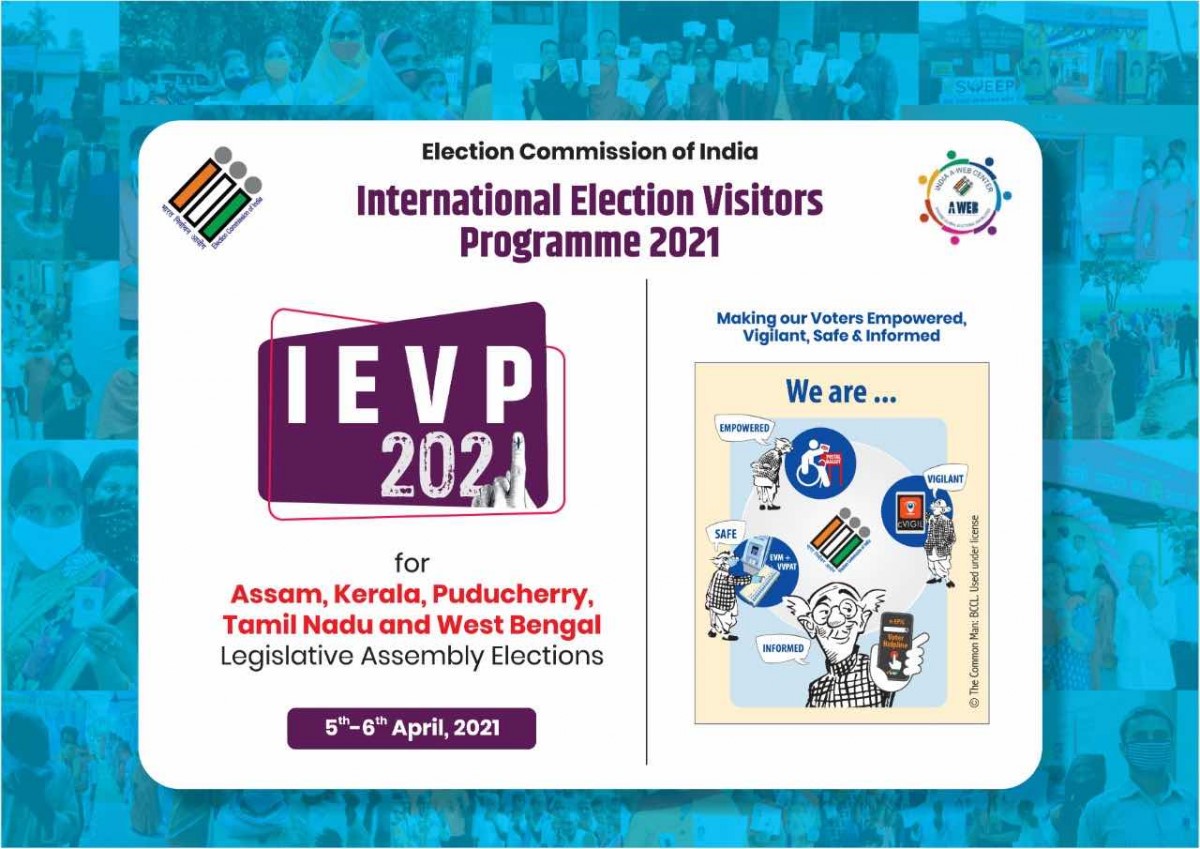 Deputy Election Commissioner, ECI Sudeep Jain highlighted the security measures such as randomisation and multiple mock polls that ensured transparency and strengthened voter's faith in EVM-VVPAT machines. In addition to this, the development of IT applications by ECI has facilitated easier access to information for voters, candidates, political parties and civil society organisations alike. Apps such as ERONET, ENCORE, Voter Helpline app, as well as the National Helpline Number 1950 have gone a long way in empowering citizens to access information about the electoral process at their fingertips.
Sushil Chandra, the present Chief Election Commissioner, in his address to the attendees present virtually - spoke of the importance of ensuring voting rights to all and the multifarious measures taken up by the Commission to ensure free, fair, safe, and ethical elections. The new initiatives taken by ECI on voter facilitation transparency and accessibility of electoral system; enhanced use of Information and Communication Technology to strengthen citizen participation and transparency as well as ECIs response to the changing needs of training and capacity building and the new formats necessitated by COVID 19 were paramount in further developing the strategy for conducting elections to Legislative Assemblies of Assam, Kerala, Puducherry, Tamil Nadu and West Bengal. Through a global knowledge-sharing programme such as IEVP, it is hoped that these measures and interventions may be of assistance to democracies worldwide.
Sunil Arora, the then Chief Election Commissioner, spoke of how the pandemic had led to an unprecedented disruption in election schedules all over the world and while the challenges for conducting elections were numerous, it has presented an opportunity that has brought Election Management Bodies together to share and learn from each other's good practices.
Election Commissioner Rajiv Kumar highlighted the technological interventions that were undertaken to ensure that the pandemic did not disrupt the election schedule and that the elections process could be made smoother and more accessible to all voters.
On the sidelines of IEVP 2021, the erstwhile CEC also released the maiden issue of A-WEB India Journal of Elections. This academic journal aims to bridge the gap between academics and practice in the electoral landscape and carries research papers, articles, book reviews etc. from eminent writers, experts, researchers and practitioners from the A-WEB Community and from across democracies of the world in the area of elections and electoral Democracy.
In April 6, 2021, the delegates of IEVP were given a live snapshot of how elections are conducted at selected polling stations through a virtual tour that included familiarization with the electoral process, polling station arrangements, facilitation of Persons with Disabilities and senior citizens. The attendees were first taken virtually to the North Eastern State of Assam at a polling station Gauhati East.
At Polling Station Number 84, General Observer Suparna took the virtual visitors through an overview of the COVID safety precautions and protocols undertaken to ensure safety of voters. As they were taken around the polling station to see arrangements made - a voter, Vishvajeet remarked about excellent sanitization protocols and how no voter was allowed to touch the EVM and VVPAT machines without gloves. Such stringent measures were put in place across all Assembly Constituencies and were paramount to ensuring voter safety.
The next polling station visited was in South 24 Parganas in West Bengal where the virtual attendees were explained the polling process in detail. Given the guidelines issued by the Commission, the polling process included thermal temperature checks, mask and sanitization protocols, and extension of poll timings as well as last hour polling for COVID positive voters. Kerala had deployed three lakh polling officials.
The attendees were taken through the process of waste disposal at the polling station in Kottayam since biomedical waste disposal after casting of votes is a matter of utmost importance to avoid spread of possible infection. The polling officials showcased the manner in which all biomedical waste was discarded by voters & officials and then disposed off by election machinery.
General Observer, Panthari Yadav gave a comprehensive overview of the Postal Ballot facility made available to PwDs, senior citizens, and COVID positive voters and the IEC measures that were implemented under SVEEP to promote safe and secure voting. John, a voter present at the polling station remarked, "The voter guide was really helpful. Even though I was skeptical of coming forward to cast my vote – it explained the polling process and all the arrangements made in detail. And of course, seeing the safety measures on ground gave me further confidence to come fourth and celebrate democracy."
The attendees were then taken to a tour of a polling station in Satgacchia, West Bengal. A unique initiative for PwDs in this district was the 'Ability Express'. A van that was designed to give Persons with Disabilities a virtual tour of the polling station as well as understand how to cast their vote on Braille enabled EVM-VVPATs.
It is the constant endeavor of the Commission to make the voting process more inclusive to include women voters. To ensure this, all women polling stations were instituted. This, coupled with safe travel to and from polling stations, a dedicated helpline, voter assistance booth, and crèche facility were highly instrumental in encouraging a high women voter turnout.
At Ozhukarai Assembly Constituency in Puducherry, the District Magistrate Poorva Garg showcased the electoral roll, explaining the process of Summary Revisions to maintain the purity of the roll. Police Observer Umesh Chandra Datta highlighted the intricacy of the security plan drawn up and other measures to prevent vulnerability in the district. General Observer Krishna Gupta toured the Polling Station and the EVM Dispatch Centre to showcase the security arrangements put into motion.
At Tiruvannamalai in Tamil Nadu, the local PwD icon visited the PwD Manned Polling Station to encourage Persons with Disabilities to come forth and cast their vote. A Special Helpline, Braille enabled voter guides, sign language boards, as well as transport arrangements made polling stations accessible and barrier free for PwDs.
As they traversed the great expanse of India virtually, the attendees witnessed in detail the COVID-19 safety protocols put into place such as social distancing, thermal screening, mask and sanitization, Assured Minimum Facilities, disposal of biomedical waste, last hour polling for COVID positive voters, and more. The virtual tour arranged for them allowed them to interact with Polling Officials, all of whom had been vaccinated prior to being enrolled for poll duty, and witness first hand the large scale and magnitude of the Indian election management system.
A short film on the glimpse of ongoing elections in the states of Assam, Tamil Nadu, West Bengal, Kerala and UT Puducherry and also on the A-WEB India Journal was showcased to the delegates.
In the current world scenario, with drastic socio-political changes and challenges to global health – Election Management Bodies are bound to face constraints in effective electoral management and administration in terms of human resource, logistics, bureaucratic reforms, and more. It is therefore, our collective prerogative to strive forward and devise sustainable solutions for unpredictable constraints to fulfill the democratic mandate vested with us. As the world's largest Election Management Body, the Election Commission of India has, since its inception, led the way in effective electoral management practices. Through knowledge-management platforms such as IIIDEM, India AWEB Centre and International Election Visitors Programme (IEVP), ECI aims to share good practices from the ground with EMBs and organisations working for the fulfillment of democracy for all.